Eurasian Eagle-Owl

Family
Strigidae
Description
This is the world's largest and heaviest Owl. Fossil findings proof that this Owl has been around for more than 40 million years. The size, ear tufts and orange eyes are distinctive for this species. It has big strong claws. Their typical call "ooh-hu" at nightfall is easily recognized.
Color
The back is buff-brown heavily marked with black and grayish facial disk around the eyes. Under-parts paler buff-brown with black streaks, and fine brown barring on belly, white throat The prominent beak is black.
Average size
59-73 cm / 2-4 kg, wingspan 138 - 170 cm
Continue reading...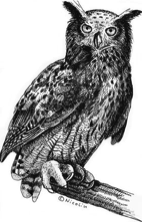 Species' local name
English:
Eurasian Eagle-Owl
Svenska:
Berguv
Suomi:
Huuhkaja
По-русски:
филин
Esti:
Kassikakk
Lietuviškai:
Didysis apuokas
Latviešu:
Eirāzijas ūpis

Polski:
Puchacz
German:
Uhu
Dansk:
Stor hornugle