Zander

Family
Percidae
Description
Zander are often called pike-perch as they resemble the pike with their elongated body and head, and the perch with their spiny dorsal fin. Zander are not, as is commonly believed, a pike and perch hybrid. Other differences are the cone shaped head and black dots on the dorsal and tail fins.
Color
Light gray/green faded bands over the back and a lighter colored abdominal.
Average size
30 - 70 cm / 6 -10 kg
Age
About 10 -15 years old.
Record size & age
130 cm / 20 kg, at least 23 years old
Continue reading...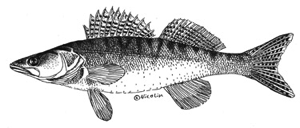 Latin =
Sander lucioperca
Species' local name
English:
Zander
Svenska:
Gös
Suomi:
Kuha
По-русски:
Судак Обыкновенный
Esti:
Koha
Lietuviškai:
Starkis
Latviešu:
Zandarta

Polski:
Sandacz
German:
Zander
Dansk:
Sandart