Sea Gull

Family
Laridae
Description
A slightly hooked bill, long pointed wings, usually short fan-shaped tail, and webbed feet.The call is very typical, a high pitched laughing sound.
Color
Color mainly white with no brown plumage, head feathers vary seasonally from white/brown to pure white/black, and tail whitish with no dark bars. Immature gulls are often beige white to brown. Bill, feet and legs yellow or orange.
Average size
40 - 44 cm long / 0,5 - 3 kg. Females are somewhat smaller than the males.
Wingspan
About 99 - 108 cm.
Continue reading...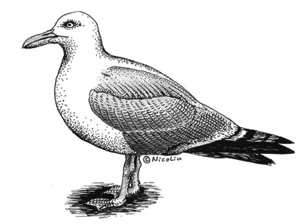 Species' local name
English:
Sea Gull
Svenska:
Fiskmås
Suomi:
Kalalokki
По-русски:
Сизая чайка
Esti:
Kalakajakas
Lietuviškai:
Paprastasis kiras
Latviešu:
Kaija

Polski:
Mewa pospolita
German:
Sturmmöwe
Dansk:
Stormmåge